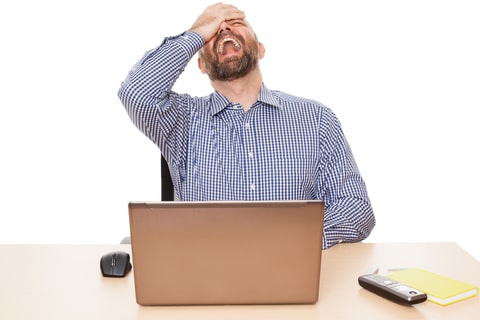 How to avoid being ripped off when buying or building a web site (part one)
1.
How to avoid being ripped off when buying or building a web site (part one)
One of the saddest things that we see in our industry is a new customer who comes to us having just spent a fortune on a web site elsewhere and not got what they wanted or expected.  Others have wasted days building their own web site in a free system based on a mate's advice, only to find it can't do what they want. They need to start all over again.  I think one of the worst was someone who had paid a big city web firm over $25,000 for a web site that wasn't working 1 year later. After listening to them we had to break the news that what they needed could have been delivered for less than $3,500!
In this article we are discussing free web sites. We look at the questions you need to ask when building your own site.  Next week we will look at choosing the right designer and web developer if you are paying for a site.
Self Build Web Sites – choosing the right FREE web site builder for you
There are lots of great free web site building systems out there nowadays, including Wix, Squarespace, Airsquared, Weebly and our own system, WebEasy.  No matter which system you choose it's worth checking the following:
Is the system easy to use?
Most modern systems are easy to use, so this is really a case of personal preference.  Don't take anyones word for it – try a few demos and see which system you find easiest to work with.
Choice of templates
Many systems have great ready-made templates for you to use as a starting point.  Make sure they have one you like before you start.  Look for preloaded demo content to give you a starting point,  rather than leaving you staring at a blank canvas thinking "what next?".
When choosing a template there are a few simple points to consider:
Will it work with your brand?
Will it appeal to you clients?
Will your content work well within the design and show your product or service in the best light?
Is it fast to load?
How does it look on mobile devices?  As many as 70% of your website users can be using mobile devices.
Freedom of design
Once you've found the template you like, are you able to change it to get the look you want?  Some systems give very limited controls which makes them super easy to use but can limit you as you start to want more control.  Other systems let you download and edit the templates but you need a computer science degree to do so.  Look for a good middle ground with access to advanced settings but without the need for technical knowledge from you.
Is there scope for adding any functionality you may want – now and in the future?
You might want a few simple web pages right now, but what about in a few years time?  Maybe you'll decide you want to link your site to MailChimp, add a shop, membership system, events calendar or other functionality.  If your chosen system offers those choices, that's great.  If not, you are faced with throwing away everything you have done and starting again. Make sure the system you choose has the ability to add in any functionality you may want in the future.  Think about your wish list, and ensure your chosen system caters for it – even if you start small!
Is support provided?
Can you get support?  I know that sounds like a silly question but some free systems out there offer very limited or no support – because they are free. Others have excellent support. Make sure you can get support and someone on the end of a phone you can speak to if needs be.
Is advanced SEO available?
Most modern systems offer some level of search engine optimisation ability.  However, not all are equal.  When you start getting frustrated that your site cannot be found in Google you may realise the system you have chosen doesn't interact nicely with search engines.  Some systems only offer the bare basics, and as time goes on you may want to be pro-active in competing with your competition.  This one is really important as historically free web site builders have not been great with search engines.  If you don't know what questions to ask, read a few freely available articles about SEO online to find out what you want to achieve – then make sure the system you are considering offers it.
Can you move your website whenever you want to? 
Last but by no means least – this is an important point.  When you get to a point where you want to move on; maybe you want something your chosen system doesn't offer, or perhaps you aren't getting the support you want – can you export your site?  As a customer you want to know that you can move your site WITH content management system and existing functionality – otherwise you simply have a static website that can be viewed but not updated or changed. You have to start again.
Many of the free offerings out there are proprietary systems; in other words they are not about to give you their system to move elsewhere.  If you choose a system that is based on freely available
Open Source software
then you
are
likely to be able to move it later.  Ask the questions before you decide!
Having said all of that, if all you want is a simple web site with the ability to edit and you are never planning to go beyond that,  the modern breed of self build websites are excellent.  Just be warned that if you want more over time you may end up starting over!
Next week: Choosing the right web design company for your business